Immersed in English in a
safe environment
Children are encouraged to explore their environment, develop self-help skills, and learn cooperation and the ability to share. They will make great developmental strides during this time as they mature socially, cognitively and emotionally. Activities are planned in accordance with each child's developmental stage, with older and younger children divided into Play Young and Play Old classes to help support their individual needs. Every effort is made to create a curriculum that energetic, growing children can enjoy.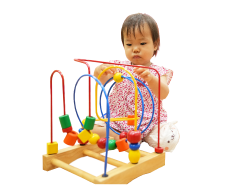 Brings out the maximum potential
in children
Many of our students will also begin their first steps towards toilet-training in our supportive, nurturing environment. Parents and teachers work together to provide the best possible foundation for success. "I can do it!" is the motto for our classes.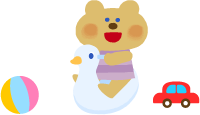 Daily Schedule
Childcare

Optional childcare is available from 7:30AM.

▼▼▼

Arrival at School

Check your temperature, wash hands, unpack your school bag, free play
*Children in the Playschool Short program arrive from 9:30

▼▼▼

Morning Circle Time

Go over the class rules and daily schedule, sing,
dance and do fun activities related to the monthly theme.

▼▼▼

Activitiy

Theme-based activity.
Games, crafts, and guided play.

▼▼▼

Daily Walk/ Park

We go to the park or take a walk when the weather is nice
*In case of rain, we enjoy active play in the classroom.

▼▼▼

Lunch Time

*Children in Preplay go home at this time.

▼▼▼

Storytime

Listen to a story and prepare for afternoon nap (Playschool Long only)

▼▼▼

Nap (Play Long Only)

*Children in the Playschool Short enjoy afternoon activities and free play.

▼▼▼

Goodbye Circle Time

Children in the Playschool Short sing songs and say goodbye to end the school day.

▼▼▼

Dismissal (Playschool Short only)

▼▼▼

Wake Up (Playschool Long only)

▼▼▼

Snack Time

Snacks and refreshments.

▼▼▼

Afternoon Activity Time

Monthly themed based activities and free play.

▼▼▼

Dismissal (Playschool Long only)

▼▼▼

Childcare

Optional childcare until 19:00 is provided.
*The above schedule is a general reference. It may vary depending on the day of the week, season, and school circumstances.
Preplay is our class for children ages 1 to 2 who are ready to be introduced to a classroom environment away from their parents. Age appropriate activities and supervised free play with classmates and teachers encourage children to relax and enjoy school. Preplay is combined in the same classroom as Playschool Young students so that when they are ready to move on to the longer school day of Playschool, they will already know their classmates and teachers!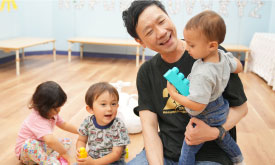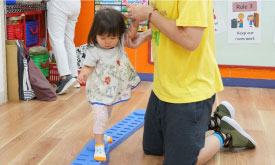 Annual Event Schedule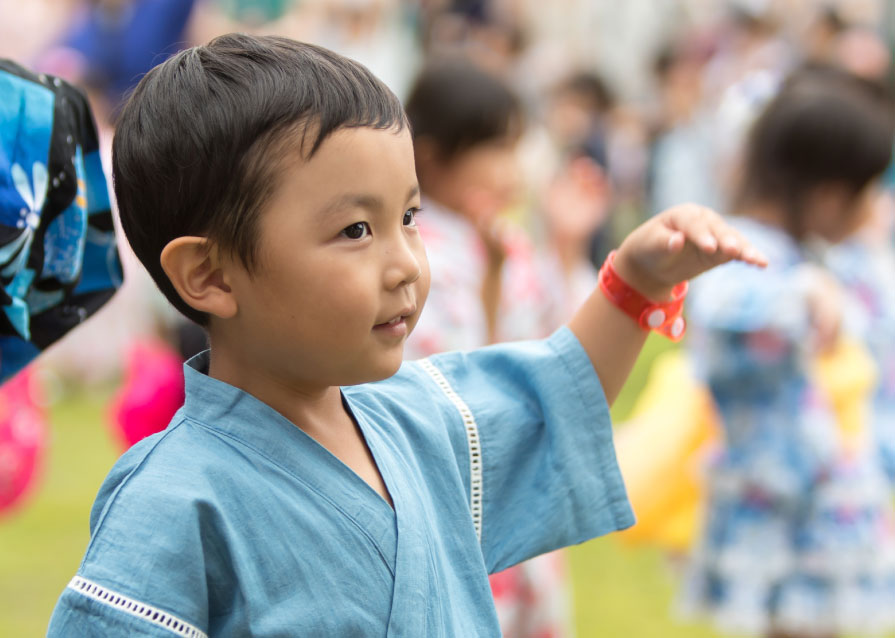 Welcome to School

We celebrate the entrance to school.

Sports Day

Enjoy games and sports with family and friends.

Summer Cooking

Prepare and try fresh summer fruit with friends.

Summer Festival

A week of special activities to celebrate summer.

Halloween Party

Fun with Halloween games, crafts,
and trick-or-treating.

Autumn Cooking

Prepare and taste delicious fall fruit and vegetables.

Christmas Party

Sing Christmas songs and make aspecial craft
with family. Santa will be our special guest!

Fashion Show

Show off your favorite outfit on the runway.

Valentine Cooking

Make a special treat for someone you love.

Goodbye Party

Celebrate the end of the school year and
say goodbye to friends who are moving
on to Preschool.
We may have to cancel or change events due to circumstances such as infestation epidemic or other sudden situations.
We hold monthly emergency drills.
In addition, there are class-based events such as picnics and cooking.
Childcare (Extended Hours)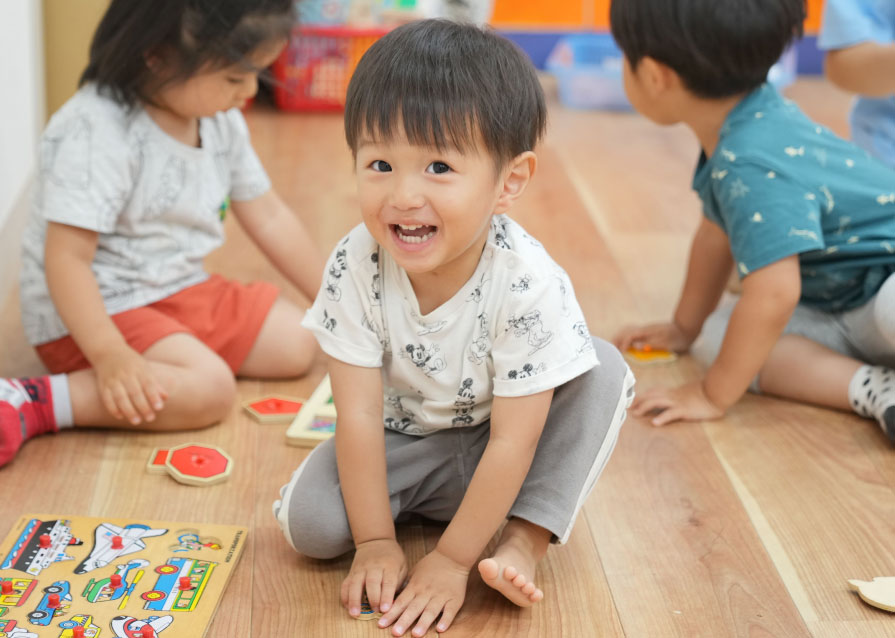 Nishinomiya International School is open from 7:30 to 19:00 on weekdays and from 9:00 to 18:00 on Saturdays.
We offer special monthly childcare plans for weekdays along with hourly childcare. Please contact us for more information.