ABOUT US
Nurturing true global citizens
together
with the local community
in Nishinomiya
Since its opening in Nishinomiya 2002, Nishinomiya International School has strived to be a school where children can challenge various possibilities in an international environment. We hope that children living in the 21st century will grow up with the ability to act and express themselves confidently in a global community with dignity and rich individuality. Our goal is for children, by learning and playing in a multicultural environment from an early age, to deepen their understanding of different cultures, to recognize differences in others as they find there own way in the world, and to develop a true international mindset that will hold them in good stead for the future.
Mission Statement
We are committed to providing a safe and
supportive learning environment that respects diverse cultures in order to help children
develop the skills and confidence they will need throughout their lives.
Philosophy
Our programs aim to develop the following seven kinds of intelligence.
Linguistic
Intelligence
"word smart"
Mathematical and
Logical Intelligence
"number and logic smart"
Rhythmic and
Musical Intelligence
"music smart"
Spatial and
Visual Intelligence
"picture smart"
Bodily-Kinesthetic
Intelligence
"body smart"
Interpersonal
Intelligence
"people smart"
Intrapersonal
Intelligence
"self smart"
Based on the above, we have developed varied programs that attract children's interest so that they can develop their various intelligences in a well-balanced manner, respecting their individuality, rather than from a single viewpoint.
* This facility is a childcare facility (unlicensed childcare facility) that has not been licensed under Article 35 of the Child Welfare Act, and is obliged to notify Nishinomiya City of its installation based on the provisions of Article 59-2 of the same law.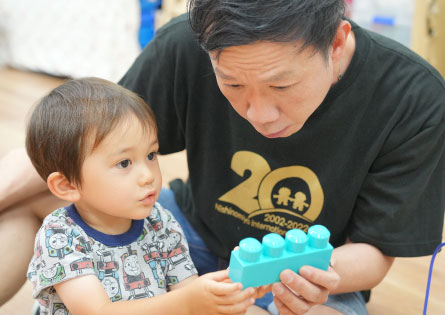 Playschool Division
Everything starts with
building trusting
relationships with others.
We believe that the first step in learning at school is for children to trust their class teachers, and that this trust leads to their own confidence and independence.
In the classroom, we strive to create an environment where children can feel safe and secure, and we respect each child's individuality as they grow to be inquisitive, independent and cooperative as they learn through play.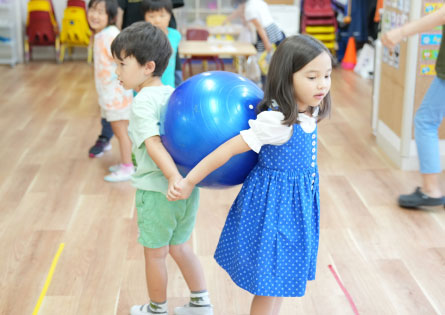 Preschool Division
Children learn best through play.
The early childhood years are a time when great benefits can be expected in terms of emotional education and cognitive skill development. Our program is designed to help curious children learn in a way that is fun! Based on advanced theories from the United States and Europe, we devise programs tailored to the actual situation in Japan that will strengthen children's social, cognitive and motor skills as well as their creativity and independence while having fun in a relaxed atmosphere.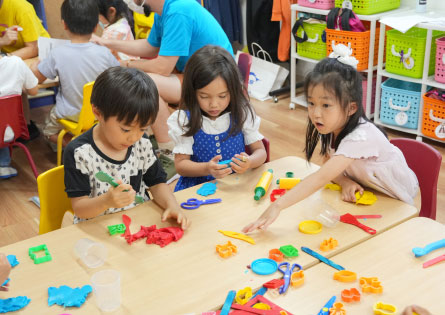 Afterschool Division
Not just to learn English, but to love it!
Our afterschool program is designed for childern attending Japanese kindergartens and elementary schools who want to learn English more naturally in an English immersion environment. English is the only language spoken in class, and the teaching methods are designed to help children learn and love English naturally, rather than just learning through drills and repeated exercises.
Program Overview
Our programs are rich in content that allows children to explore and challenge themselves through social studies, science, math, language, reading, music, art, and other classes, as well as through exercise and play. Each class teacher utilizes their creativity to develop age-appropriate, engaging, and fun programs for children.
Learn English naturally
through "play!"
Our aim is to have children learn English naturally while having fun. Rather than forcing children to learn English, we want them to absorb English in a way that is "fun" for them. Children will become familiar with English through "play" and will to learn to communicate naturally with people from other countries without being bound by "language" such as "English" or "Japanese." There is more to communication than words alone!
Enrich character development!
We consider education as a way to help children develop rich personalities. Our program is designed to respect and develop each child's talents and individuality in an appropriate environment. Lessons are conducted in a relaxed atmosphere, and children join their peers and teachers for an entire day at the school immersed in a rich learning environment. In this fun environment, mixed with interaction and play, the various elements that are essential for children's growth are created.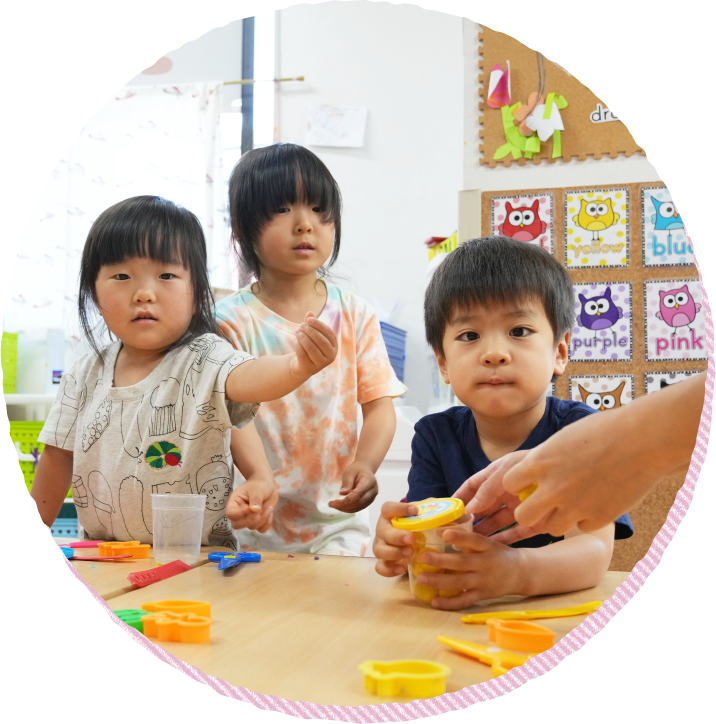 Exposure to natural English at
an early age!
Children have a wonderful ear for language, and once they become interested in a language, they acquire natural pronunciation and intonation with amazing absorption power. Many of our students do not speak English at home. Exposing young children, who learn language differently than adults, to English in an immersive environment, is very effective in helping them acquire natural English.
Nurture future global citizens!
Japan is currently undergoing major changes toward internationalization. Individuality will be respected more and more, and an attitude of accepting differences among diverse cultures will be required. It will also become necessary to have the ability to speak up and express one's own opinions clearly in the international community. Through this program, we aim to nurture not only "English speakers" but also "future global citizens" with rich personalities.